Das wär doch auch was für unser Land, dann kann man sich vielleicht die ganzen Diskussionen um Online- Überwachung und anderen Ungeheurlichkeiten sparen. Wir Deutschen kennen uns doch mit sowas aus, oder nicht mehr?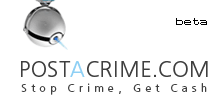 "is a free service for anyone to upload photo or video content of burglary, theft, vandalism, or other criminal acts that have been caught on camera for the purpose of identification by the public. Users can also search our crime database by address or zipcode and view crimes committed near their homes and places of work, and submit tips should they have information about a specific crime."
Das Beste: man wird für seine "Dienste" bezahlt….